Whilst I attempt to try and create a little more breathing space for me, my work still keeps me pretty occupied! I am managing to get out for a gentle run twice a week, and I swim late at night to relax after a hard day in the studio or teaching. So October is another busy month ahead….
I am so happy to have finally started delivering this new project at Abraham Derby Academy, which has been in the pipeline for a long time. Funds were secured by art teacher Emma Owen with my help, a number of years ago, but we have both struggled to fit this into the school's timetable and my busy schedule.
'All Fired Up' tile project for year 9 students studying the new BTEC Art course with head of Art, Anna Moszynska.
Last week I gave a presentation to Year 9 on my work over the last 15 years with a question and answer session, followed by a look at my sketch pads and portfolios. There was also an opportunity to handle examples of my more recent porcelain work. Students were then introduced to working with soft and leather hard clay, which would help inform the designs of their tiles. Students experimented with mark making with found object creating surface patterns for their tiles, then went onto explore carving into leather hard clay with metal carving tools. So enthusiastic was the response that they asked their Art teacher to continue working on the experimental tiles in the following lessons. I will return to the school in a few weeks to assist in making the tiles.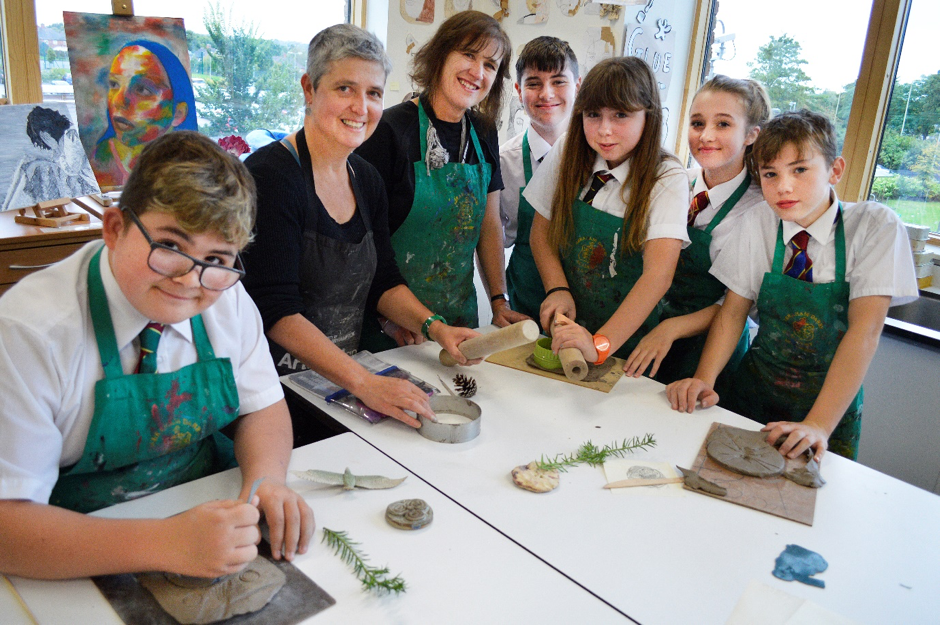 Next week I am excited to be working in Moreton Hall Independent School, near Oswestry, delivering 5 workshops to Years 10 and 11, as well as to Sixth Formers in years 11, 12 and 13. I will introduce the students to screen printing techniques on clay, a specialism I have developed over the past ten years. It will be a hectic day working with around 65 students in back to back students but the I'm excited to see the results of these talented young women!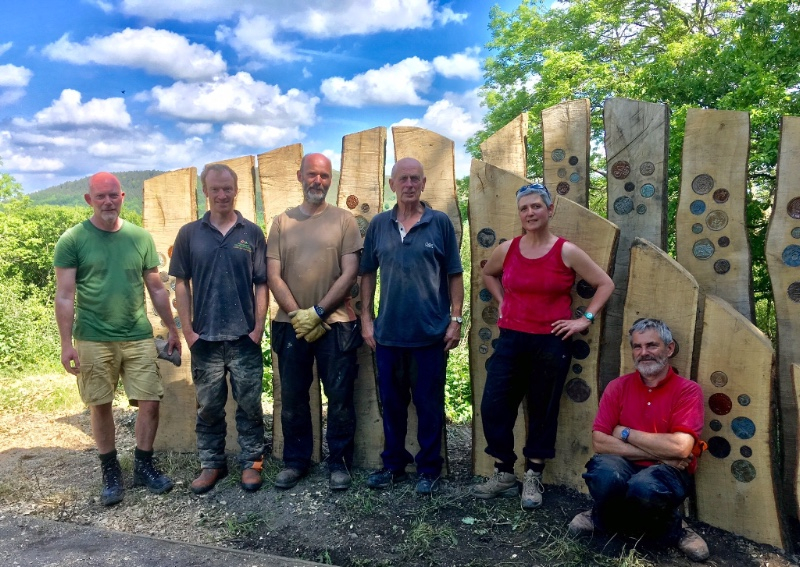 Impressions of the Past Project was finally completed in the summer and culminated in a celebration event at the new sculpture designed and created by me and the fantastic team, in Poles Coppice, Pontesbury.  Commisioned by the LPS, I was joint lead artist on this project, working with poet Jean Atkin, to deliver a series of free workshops in clay and poetry to community groups and schools, about the Iron Age landscape, and focusing on local landmarks such as the impressive hillforts of Pontesford and Earl's Hill. The workshops were active and practical, taking place both outdoors and under cover, inspiring everyone to respond to these remarkable places and their long human histories.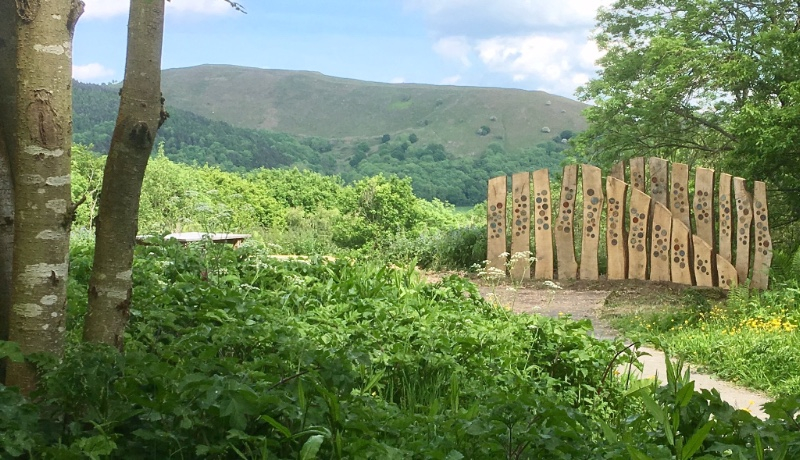 IImpressions of the Past was funded by the Heritage Lottery Fund via the Stiperstones & Corndon Hill Country Landscape Partnership Scheme. The project is also supported by the Friends of Pontesford Hill, Shropshire Wildlife Trust and the Shropshire Hills Area of Outstanding Natural Beauty Partnership.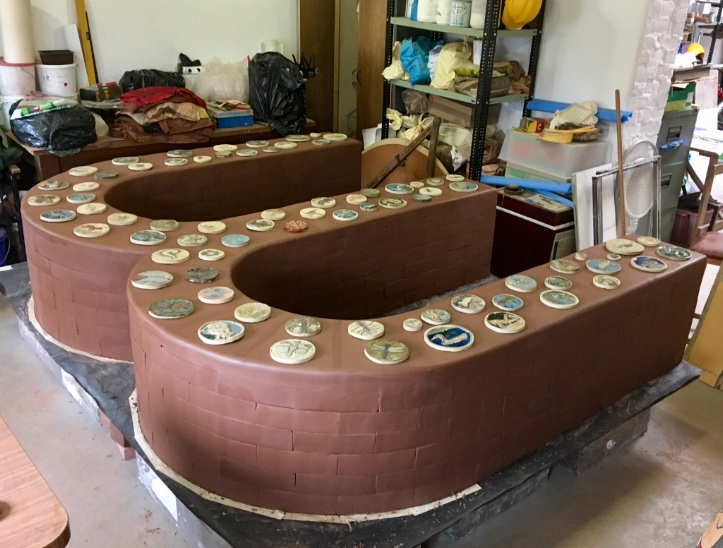 MERES AND MOSSES COMMISSION
I am also trying to make time to complete the work on a Benchart Project; a commission for the Meres and Mosses landscape Partnership Scheme. This project began in 2016 and has been in progress throughout 2017. Working with the local community and in Sir John Talbot School, Whitchurch, I and Benchart colleagues Huw and  Mike, have delivered workshops at Merefest Ellesmere, and Blackberry Fair Whitchurch, as well as in the school. This has resulted in some stunning glazed tiles which will sit on top of a carved bench in the shape of an M, the logo for the Meres and Mosses LPS. The project has been supported by Blockleys Brick and Ibstock Brick, supplying and firing red bricks, and blue paviors. It hasn't always gone smoothly, as ceramics often doesn't! The next stage of the challenge is to dry build the sculptural wall in the studio to test that it all fits together, and cut any bricks to make this work, before the final installation of the whole sculptural seating takes place in Jubilee Park in Whitchurch.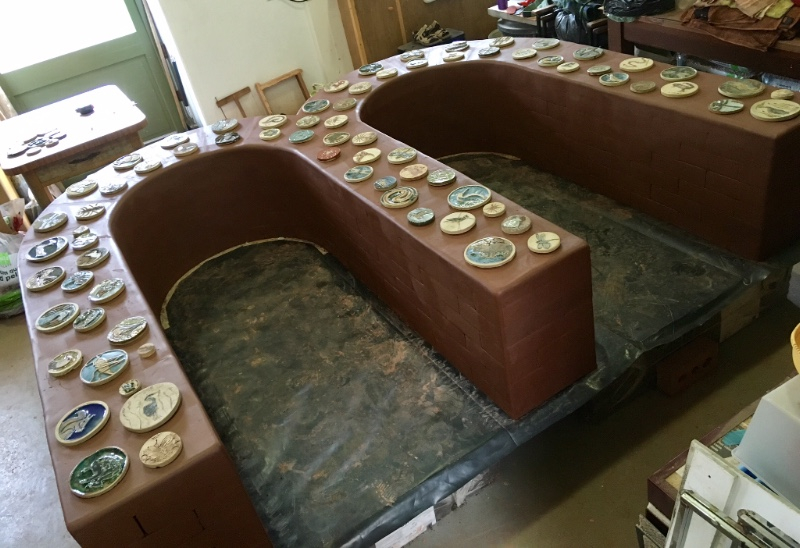 Autumn also is a time to restock galleries, as well as explore new gallery opportunities:
I am delighted to have been selected to take part in a joint exhibition by North and South Wales Potters, in LLanbedrog on the beautiful LLeyn Peninsula. It is one of my favourite spots in wales and it will be a real treat to drive here for a day out to deliver my work for this exhibition at Plas Glyn Y Weddw, in Lanbedrog. It will also be a happy opportunity to take my parents out for the day for my Mum's birthday; we can't wait sample the lunch menu at this Galleries café!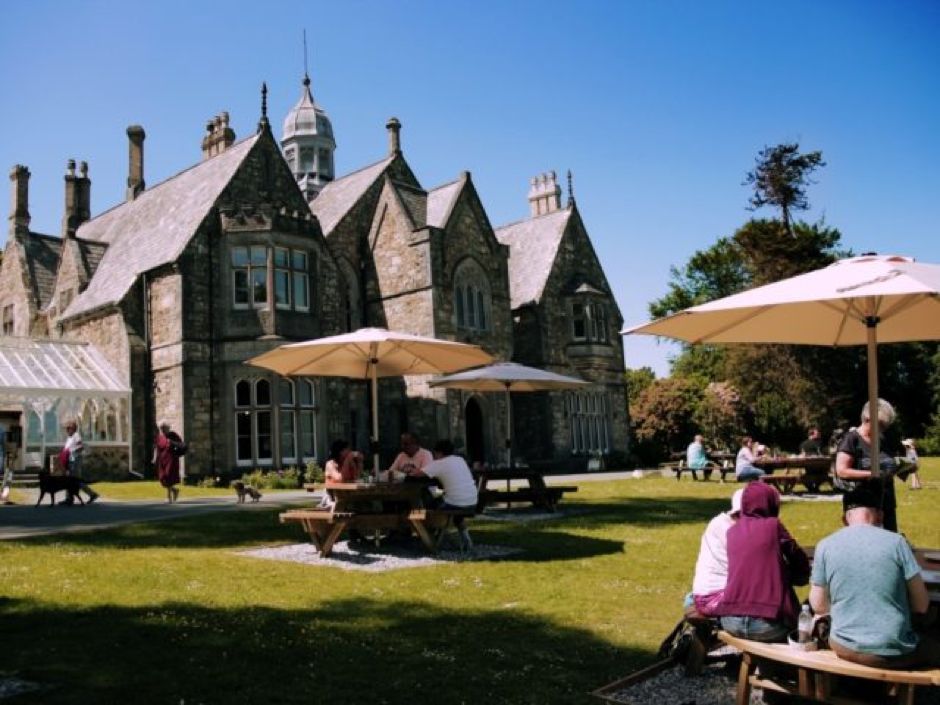 This stunning arts and heritage centre, Plas Glyn Y Weddw, is situated in Llanbedrog on the picturesque Llŷn Peninsula. Housed in an impressive grade II Gothic Victorian mansion it's the perfect location to view and buy contemporary Welsh art.

Also in October I will be delivering new stock to one of my regular galleries, Sea Pictures, in Clare, Suffolk. Gallery owners Sarah and Alariac spend a few days each season on a tour of the country to pick up work from their favourite artists and ceramicicsts, so a visit to Ruth Gibson Ceramics, is always on the agenda.

And finally, on a local level, I have recently delivered a new body of work to the Street Gallery in Shrewsbury, Shropshire's Visual Art Network's temporary home. My work is selling fast so get down there if you want a choice of the best work!